Biography & Artist's Statement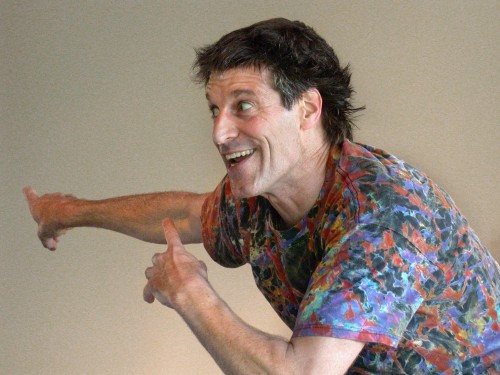 Biography:
Christian Swenson has an extensive background in dance, mime, voice and improvisation.  He is known for his pioneering work in what he calls "Human Jazz", a global fusion of dance/drama/music for body and voice.
In 1977 he received a BA in Theater from the University of New Hampshire and moved to Seattle to work with the Bill Evans Dance Company.  Further training has included work with Tony Montanaro; Diane Schenker; Ruth Zapora; Korean shaman, Hi-ah Park, and with the late Pakistani master-singer, Nusrat Fateh Ali Khan.  He has performed with Bill Irwin, The Seattle Symphony Orchestra, and The Jay Clayton/Jim Knapp Collective and in Europe with Jim Nollman of Interspecies Communication Inc. He presently teaches in the Theater program at Seattle University.
For the past 30 years he has been performing creations for the body and voice searching for a more global aesthetic.  Since 1980 he has been a touring artist visiting communities and schools in the Northwest and beyond.  He has performed and taught throughout this country, as well as in Canada, Europe, Japan and Nepal.  Christian released his first compact disc, "Off-Road Vocals" in 2000.
As a guest artist he has been seen as: The Monster in The Minnesota Opera's production of "Frankenstein", at New York's "Serious Fun at Lincoln Center" and "The New York Improvisation Festival", with The Flying Karamazov Brother's "New Old Time Chautauqua" " and the 2002 "Rolling Thunder Down Home Democracy Tour" and has been heard on National Public Radio's "Sandy Bradley's Potluck.  He was a teacher/performer at the 2005 American College Dance Festival in Buffalo, NY and at the 1998 "Body & Soul Northwest" Conference.  For two years he was a Vocalist with the Integrated Music Program at two Seattle hospitals and is a founding member of the improvisational ensemble "Molten Vocals".
Christian has received Fellowships from the National Endowment for the Arts, Washington State Arts Commission and Artist Trust of Washington.  He resides happily in Seattle with his wife, Abigail, and they have two grown children.
Artist's Statement:
My work in the theater is concerned with the autonomous actor, the natural world, and the dynamic interplay between the self and the Other. Since 1980 I have been creating and performing solo works for body and voice, our original instruments. The work is unique in its cross-cultural synthesis of theater, dance and music and its willingness to unbridle the imagination. I create shows where freedom is more important than conflict, and within which continual transformations can take place.
I can be myself simply speaking to the audience; then a character speaking or singing in tongues, and dancing; then an animal watching the audience; and then just a person at play with energy.
Creating, shaping, reacting, transforming until the separation between real and imagined evaporates; the artform as a lifeform. I have been developing new modes through improvisation, as the compositional forms for theater, dance, and music have grown separate from each other and feel too domesticated. I wish to play my bodyvoice as Jimi Hendrix played his guitar.
In our culture, improvisation in theater and dance has had a controversial history, although this is not true of American music. I am seeking a common ground between the aliveness of improvised music and that of the wilderness. As separate art forms, theater, dance and music have been widely explored in this culture. However, as a simultaneous act, there has been little development beyond the styles of musical theater and folk idioms.My work attempts to fuse these by exploring the terrain between speaking and singing, acting and dancing, human and animal, sacred and secular.
I am finding delight to be an essential force for uniting imaginations in this vast array of forms. The spirit of this practice is re-creation and participation in the wilderness of the imagination. I believe the French dramatist, Jean Genet, who said, "Imitation is love." So with an open heart and mind as a springboard, I freely imitate other species and cultures as well as entities from imaginary realms. By simply "playing" the bodyvoice in this way, the work is both disarming and inspiring, allowing the audience to sense greater possibilities for interplay between the self and the world.