Performance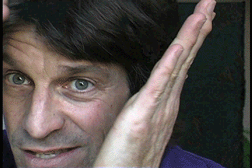 A skilled dancer, mime, singer and speaker, he freely becomes other people and creatures showing audiences a place in all of us where humor and beauty are one. From Asian throat-singing to jazz cartoons, Sufi poetry to lumbering dinosaurs, straight-talk about brain chemistry to "word" improvisations, it all comes pouring forth from this single human being.
This is not a dance performance, a sacred ritual or a play, nor a musical concert or a comedy show, yet it is in part all of these. It is also a homage to the human medium and the spirit that connects us. "Human Jazz" is about "playing" the body, voice and imagination simultaneously. Drawing from a global palette of sound and movement, Christian takes audiences from inter-cultural accapella "dansing" to his reknown "De-evolution". From his autobiographical stories to 12th Century Sufi poetry Christian keeps stepping back and leaping outward with our original instruments, inspiring us to think twice about this us – them business.
Christian frequently appears as himself speaking directly and spontaneously to the audience about his work or to introduce what's to come. He then "disappears" into songs, animals, other cultures, body music, aliens, or mere energy. His enchantment with the entire spectrum of life and his evident joy in the human instrument challenge audiences to recognize the beauty of unfamiliar forms and the power of simple human expression. This solo concert is an unforgetable demonstration of the mesmerizing power of the autonomous actor. From the beginning invocation with the "singing rocks" to the hilarious "word Improvisations" at the end, this shaman of delight interweaves the mysterious and the obvious with immediacy, power and vulnerability.
Children's Shows
A master of improvisation, Christian takes young audiences on a wildly delightful adventure of transformation on our original instruments – body and voice. Freely imitating other species and cultures, he shows children a place in all of us where humor and beauty are one. From accapella "dansing" to snivelling gnomes, Sufi poetry to lumbering dinosaurs, it all comes pouring forth from this single human being.
"Play" of this sort speaks directly to children's bodies and imagination. Christian leads audiences in "hand dansing", call and response singing, and also performs improvisations from audience suggestions. Besides himself… he also plays African talking drum and a pair of singing rocks.