Music
Soundcloud
Tossing it out there for free!!  You can find some of my recently recorded singing at https://soundcloud.com/humanjazz  This is simple a cappella singing in resonant stairwells and other locales.  Captured on the oh-so-easy iphone voice memo app.  Listen, share and be inspired to just get your music out.
"Off-Road Vocals" CD by Christian Swenson – $15
Send me an email from my Contact page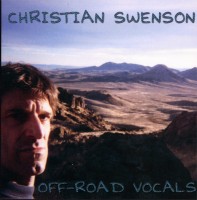 In this improvising I am reaching into each oncoming moment with imagination, voice and body. Breath, flesh and mind touching, leading, following and changing each other; loving the longing, the approaching, the touching and the greeting of Other. As in much of this singing, my favorite ways of "going" are pathless. The voice, the feet, the land, the water creating the journey together. No trail, just bushwacking, rock-hopping, body surfing into mountain, desert and ocean. Acting like music, "dansing" in tongues not my own, but this time not seen, only heard. For the past 30 years I have been a stage performer creating "human jazz" for our original instruments, body and voice in a fusion of singing, acting and dancing. This time is for you to imagine, and see what this sounds like.
didja (anon.)
the two
tongugung
drahkinoh!
the tunnel
journeying
Farewell to Tarawathie (traditional)
Simple Gifts (traditional)
gung again
dahhoo
dunes